Get Your Tickets Before April 30th at 11:59 pm!
---
---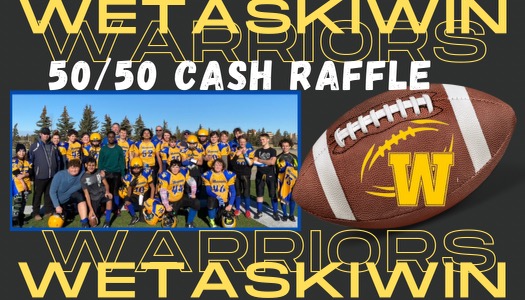 ---
Our Wetaskiwin Warriors Female Tackle team is the MOST SUCCESSFUL program around! Our girls play hard and work even harder! We are very proud of all them! Our Warriors family is working together to keep football affordable and safe in Wetaskiwin. We are asking for your support in our 50/50 to help us in purchasing new gear to keep these girls as safe as possible.
The raffle will run from March 20th - April 30th. Please share and share and share the link! There is a drop-down menu on the page where people can choose the player they would like to support.
Winner will be announce May 1st in the morning!
Our club is struggling in regards to funding and we desperately need to have a successful season of fundraising!
Thank you for your support! We hope to see you in the stands!
**Each player is expected to sell $300 between the 2 fundraisers this season.